Rise of the MacBook Pro Serial Killers
_NOTE: I've used Mac hardware for over 25 years and own both laptops described in this article._Something very interesting has happened early on in the Summer of 2020 while quietly very disturbing for Apple. A slew of ultra-low power high-performance ultra-books have entered the market based on AMDs 4th generation Ryzen 4000 series APUs code-named "Renoir" for their Zen 2 core 7nm process micro-architecture. There have been leaps in low power mobile laptop processors for decades already but this time it seems very very different. Why is that ? The short answer is extreme value for money and Apple's decline with regards to design and innovation since the old man passed away almost a decade ago. Apple's move to it's own ARM-based macs is a topic for another article that will counter-intuitively substantiate this seemingly reckless claim.So let's go into some detail and start by looking at a 13-inch MacBook Pro circa mid-2020. With the CPU maxed out but leaving the memory and storage at their defaults to allow for a fair comparison with the serial killers here's what we have …
It's well known that Macbook Pros are a luxury item that exists in a lightweight(3.1 lbs) aluminum uni-body design. So it's not surprising that the price tag for this configuration is $1999.Now for comparison let's look at one of these ultra-books with a price of $679.99. The 14-inch Acer Swift 3 is roughly the same dimensions and just as thin (0.63 inches vs 0.61 inches) as the 13-inch Macbook Pro but it weighs in at just 2.65 lbs. That's 15% lighter. It also has an aluminum body which while not cast in one piece is hard to tell unless you look at it from the bottom and is functionally just as good and maybe even better than the Macbook Pro.The screen brightness of 270 nits and an HD resolution of 1920x1080 aren't as great as the Macbook Pro which has a screen brightness of 500 nits and a resolution of 2560x1600 but the difference is hardly noticeable except in broad daylight and who wants a 16:10 over a 16:9 aspect ratio anyway for almost 3X the price ?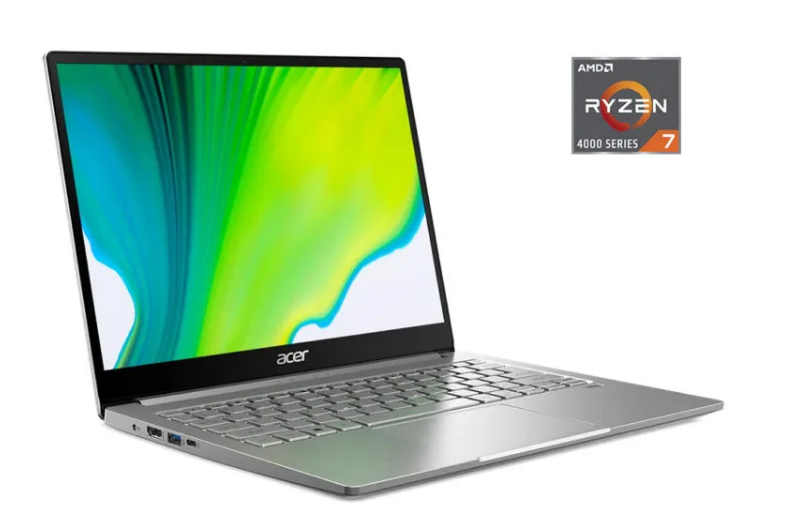 - The 14-inch Acer Swift 3 with AMD's Ryzen 4700U APU"
Where things get dark for the Macbook Pro is performance. Using Geekbench 5 we see a tale that is something of a horror story for Apple.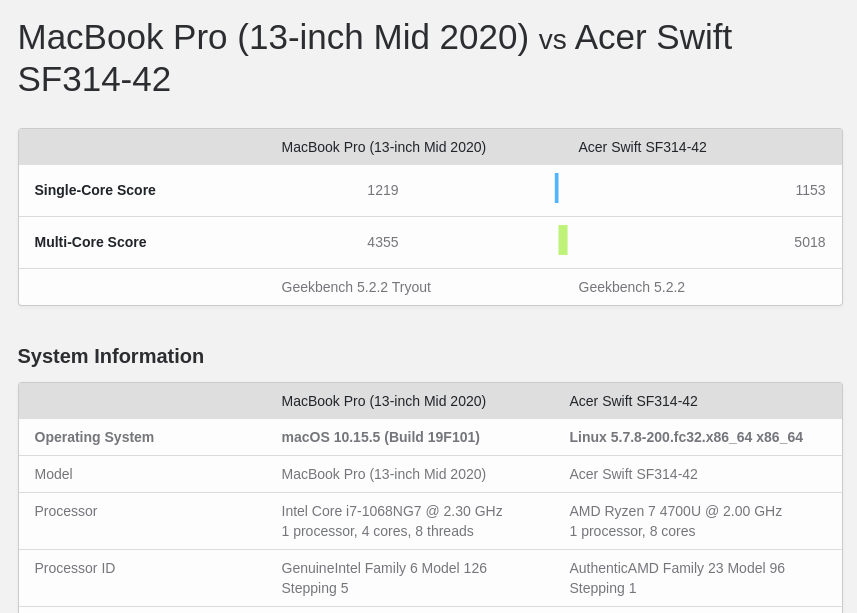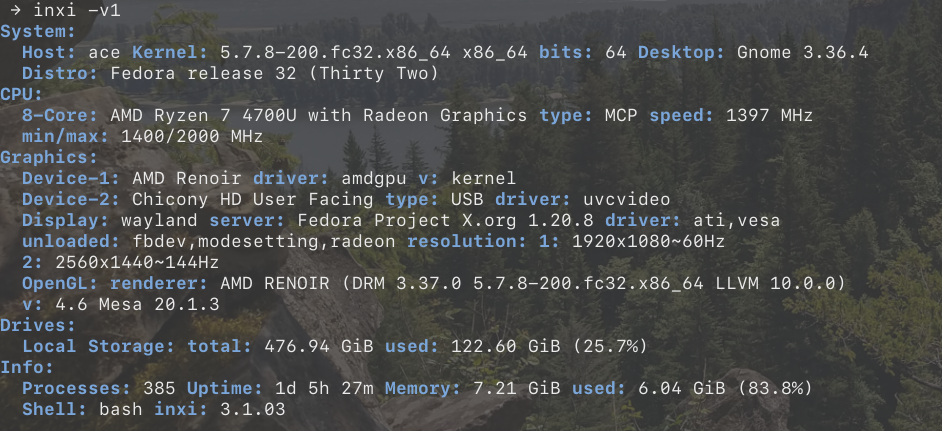 There's not much more to say other than as of Summer 2020 there now exists a light-weight aluminum body ultra-book that runs Windows or Linux perfectly for 33% the price of a 13-inch Macbook Pro with 115% the performance of the maxed out i7 CPU option.